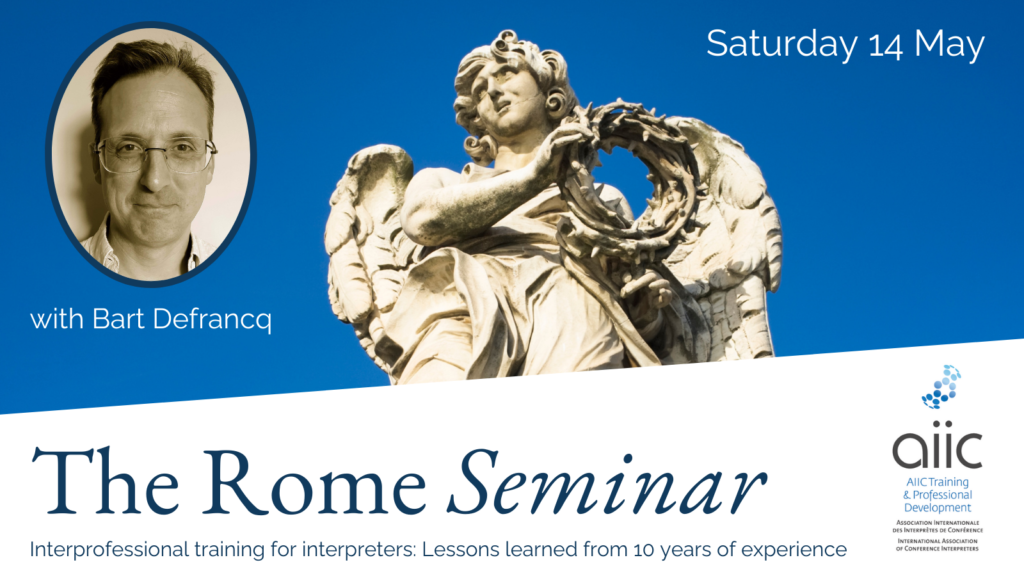 SATURDAY, MAY 14, 2022 | 02:00 PM –  SATURDAY, MAY 14, 2022 | 07:00 PM
ORGANISER :
TYPE: TRAINING
LOCATION : ONLINE WORKSHOP ONLINE   CH
*AIIC members must be logged in to enjoy the discount.
*Please click here to create a Friends of AIIC account if you are not a member.
Interprofessional training for interpreters:
Lessons learned from 10 years of experience
Rome ToT 2022 with Bart Defrancq


Join ATPD for the 2022 edition of our flagship Training of Trainers course, the Rome ToT, where we will examine the all-important topic of how to offer practical, hands-on training to students of interpreting. Bart Defrancq of Ghent University will take participants through his training team's ground-breaking project for interprofessional training for interpreters (IPTI), which brings together student interpreters and user communities in true-to-life practice scenarios.
This ToT is for interpreter trainers who are looking to further enrich their students' experience with practical components in simulated settings. It should be of particular interest to those who work in a structured higher education programme. The workshop will cover both public service (community) interpreting and conference interpreting.
Workshop description
Interprofessional training can briefly be defined as combining two different professional groups to enable them to learn with, from and about each other. The notion that such an approach can be beneficial dates back to the 1960s and was especially prevalent in the medical field. In the United Kingdom, for example, a Centre for the Advancement of Interprofessional Education (CAIPE) has been around since 1986 and it brings professional partners together, encourages research, alerts policy makers to the importance of interprofessional education and more.
Over the years, the interpreter training team at Ghent University has set up several projects with partners from legal, medical and political backgrounds to give interpreting students the opportunity to practice with their key client groups in a controlled environment, as well as to allow the client groups to experience communicating with an interpreter present. The team's focus is on groups of students and trainees and simulated settings in situ (such as courts, hospitals or conference venues).
In this workshop, trainer Bart Defrancq will introduce the general structure and principles of IPTI@UGent, explain how the team has managed to find and keep partners on board and showcase the school's IPTI sub-projects. Together we will reflect on how you could go about finding IPTI partners for your interpreting program, set up a structured cooperation, organise relevant feedback loops in the project, and, importantly, avoid breakdowns.
About the trainer
Bart Defrancq is a Professor of interpreting and legal translation at Ghent University (Belgium). He is the current president of CIUTI and member of the SCIC Repository Steering Committee, as well as a member of various national interpreting and translation assessment committees. Originally a linguist, he took the conference interpreting training programme at Ghent University and has for more than 10 years trained generations of PS interpreters and conference interpreters, trying in particular to solve the issue of organising relevant traineeships for student interpreters. His scientific work focuses on CAI tools, cognitive load in simultaneous interpreting and interaction patterns in police interpreting.
Workshop details
This year, the Rome ToT will once again be held online. Two identical one-day workshops will be held, one in English and one in French. Choose the workshop that suits you best:
Workshop 1 (in English)
Saturday 14 May 2022
Time: 14h-19h CET (one-hour break from 16h to 17h)
Return to top of page to register
Workshop 2 (in French)
Sunday 15 May 2022
Time: 14h-19h CET (one-hour break from 16h to 17h)
Register for Workshop 2 in French at this link
Location: online (Zoom)
Group size: min.12 / max. 20
Early bird rate until 31/3/2022: AIIC members 40 CHF / non-members 50 CHF
From 1/4/2022: AIIC members 50 CHF / non-members 60 CHF
Deadline for registration: 7 May 2022
Contact: Bart Defrancq (bart.defrancq@ugent.be)
Sponsorships
AIIC Training and Professional Development ATPD may sponsor a number of interpreter trainers to help them attend Training of Trainers courses.
Given its online format, sponsorships for this event will not be used to defray travel costs, but rather to assist participants, in the absence of reliable home internet coverage, with the rental of a hub or coworking space with a stable connection. These sponsorships must be requested and approved in advance of the ToT, with reimbursement (of up to 150 CHF) made after the event on presentation of receipts.
The rules for ATPD sponsorship can be found here. For more information or to apply for a sponsorship, please contact Michelle Hof (m.hof@aibcnet.com).